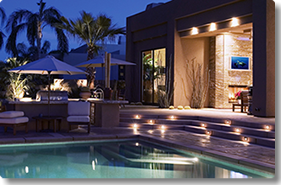 Our touch-screen control systems allow unprecedented control over each subsystem. (Lighting, audio, video, security, and more.)
The design of the system allows you to manage every one of your systems from a user-friendly interface that displays important information that won't leave you wondering how to turn on your television.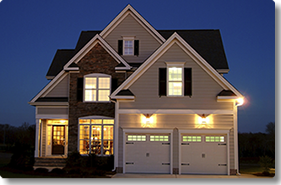 We offer state-of-the-art lighting control systems specifically for homes and businesses. Lighting control systems provide energy savings and peace of mind by allowing you to control a wide variety of lights using intelligent switch communication.
Our advanced lighting control system offers increased security by allowing you to set up time-based schedules for different times of the day..
Audio Video Services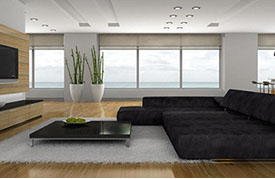 Multi-room audio and video is designed to deliver crystal-clear audio and high-definition video throughout your home or office at an exceptional value. Our systems allows you to spend more time relaxing, and less time hassling with complicated systems.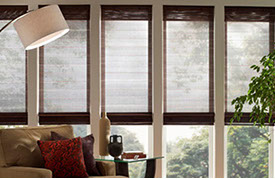 With motorized shading solutions, you can easily raise the shades to add sunlight, or lower them to ensure instant privacy.
Shades can be manually controlled or you can preset them to automatically open and close during a specific time a year, effectively controlling sunlight to prevent harsh U/V rays from damaging expensive furnishings.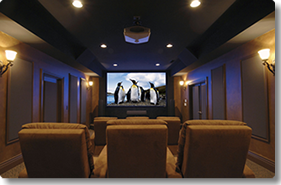 Experience the thrill of owning a state-of-the-art home theater. Never before has the concept of a home theater been so affordable.
We have designed a variety of different theater packages for almost every budget so all entertainment enthusiasts can experience the thrill of a cutting-edge theater system.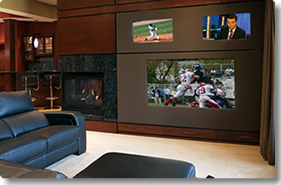 Need a TV Installed? Or maybe you want full surround sound experience? We can help. Television size, speaker setup, component capabilities, remote programming, and more are all taken into account to deliver the Media Room of your dreams.
Call today - We can help, no job is too small or too big.
Our easy to operate integrated security systems protect the assets of your home or business and are capable of a variety of automation tasks. Our systems can be set to turn on or flash lights in the event of an alarm.
Adding cameras around the perimeter of your home or office building can further enhance your security system. We also offer an access control system to guard against unauthorized entries into restricted areas while allowing easy access for authorized personnel.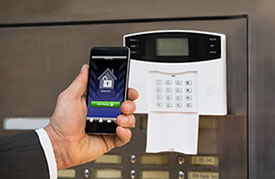 Outdoor lighting and media options are taken to the next level with products that are available in today's market. TV by the pool, speakers on the patio and in the yard, and lighting in and around it all!
We can design a lighting plan for your home that is centrally controlled and follows an automated program that controls the timing, the color and lights targeted areas.